Waste and citizenship
06.07.2012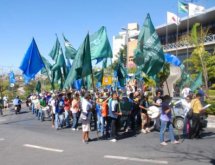 Within our "Reconsidering wealth" programme, we promote the actions and ideas of marginalised populations within the waste sector. This idea emerged following a 13-year collaboration with Brazilian wastepickers cooperatives. We supported the establishment of waste sorting centres and recycling units in Brazil and we also participated in the organisation of an annual "Waste and Citizenship" festival.
In Brazil, the 800,000 catadores (wastepickers) who used to be informal, stigmatised and excluded workers, have gradually organised themselves into cooperatives. Their National Movement promotes recognition and socio-economic integration of catadores, recognition of their trade and improvement of their working conditions. Catadores showed their interest in ideological and technical cooperation and in exchanging experience with France. They were also ready to disseminate their visions and practices.
Along with the local authority of Plaine Commune, we organised the first Franco-Brazilian "Waste and Citizenship" Week in November 2009 (see document). Local actors promoting social economy as well as reduction and recycling of waste, such as les Ateliers de la Bergerette and the Débrouille Compagnie association, worked together to plan and organise the week. It aimed at promoting the role of organisations in social economy in the waste sector, as an alternative to the monopoly of big private industrial companies. The week also aimed at defending the idea that everything destined to be discarded can be something valuable, a resource creating social links, craft and artistic creativity, jobs and personal development.
At the end of the first week, we expressed the desire to go on and organise a second one in spring 2011, opening it up to actors from other countries. We want to promote exchange of practices throughout the whole year, between community organisations, popular waste collection and recycling cooperatives over different continents and involving informal waste workers in France (informal street vendors, Roma people…). Issues and activities related to this process should include improving social organisation and structuring of networks, as well as advocacy work towards administrations and institutions, so as to push for a centre role for the popular economy and informal waste management sector.