Kurdistan covers four countries : Turkey, Syria, Iraq, Iran. There are around 40 million Kurds. They represent the biggest stateless nation in the world. France Libertés was mainly in Iraqi Kurdistan with an office in Erbil, the capital. The autonomous region of Iraqi Kurdistan has around 6 million inhabitants. The region also has its own Parliament and autonomous regional government.
Since 1986 in Turkish Kurdistan and since the Anfal in 1988-1989 in Iraqi Kurdistan, Danielle Mitterrand supported a lot the Kurdish people. She managed to raise awareness amongst the International Community about the human rights violations in Kurdistan (after the Anfal, with the UN resolution 688. She also supported later the kurdish leader Abdullah Öcalan). She is called "The mother of the Kurds". Following her last trip to Kurdistan in 2009, she committed her foundation to the Iraqi Kurdish government in order for it to act for its youth. This commitment has been achieved through the establishment of a training programme for youth facilitator trainers in partnership with the federation Léo Lagrange.
Today, Iraqi Kurdistan welcomes more than 2 million refugees and displaced people, including about 500,000 children fleeing conflict. Most of them live in camps, for example Bardarash near Mosul, hosts 12 000 people (5 000 children) and has two schools, an hospital and a community center.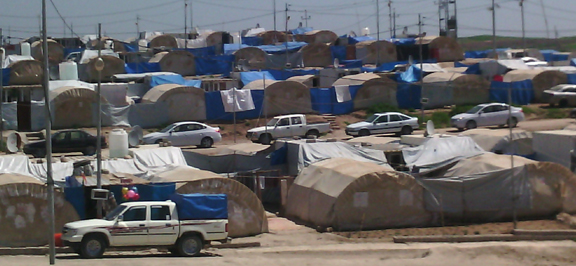 In these refugees and displaced camps, many adults, who are skilled and motivated, find themselves jobless. Frustration, loss of self-esteem, living conditions encourage them to withdraw and cause them significant psychological suffering. Children have at best 3 hours of classes a day. Isolation and inactivity are added to the traumas of war, and the psychological and social needs are very important.